The Pumpkin Spice Collection
transformative teas for the season of abundance
The Pumpkin Spice Collection
Sip the Season of Abundance
Embrace the season of abundance and wellness with Magic Hour's Pumpkin Spice Collection. Featuring 5 new blends previously available only to the imagination. Pumpkin Spice – Marzipan White, Fireside Herbal Chai, Pumpkin Truffle Rooibos, Caramel Oolong, and Cake Batter Breakfast Tea.
Each carefully crafted blend captures the essence of a cozy fall evening, inviting you to savor the warmth and comfort of the season with every sip. Enriched with spices renowned for their inflammation and stress-reducing properties, these blends cocoon you in the soothing embrace of autumn's tranquil vibes, sip by sip.
Pumpkin spice
Chocolate Truffle Rooibos
Caffeine-Free
A rich and soothing blend of rooibos & honeybush meld with warming spices, mood-boosting dark chocolate & relaxing Ashwagandha for a calming & loving caffeine free hug in a cup.


Sip Chocolate Truffle Rooibos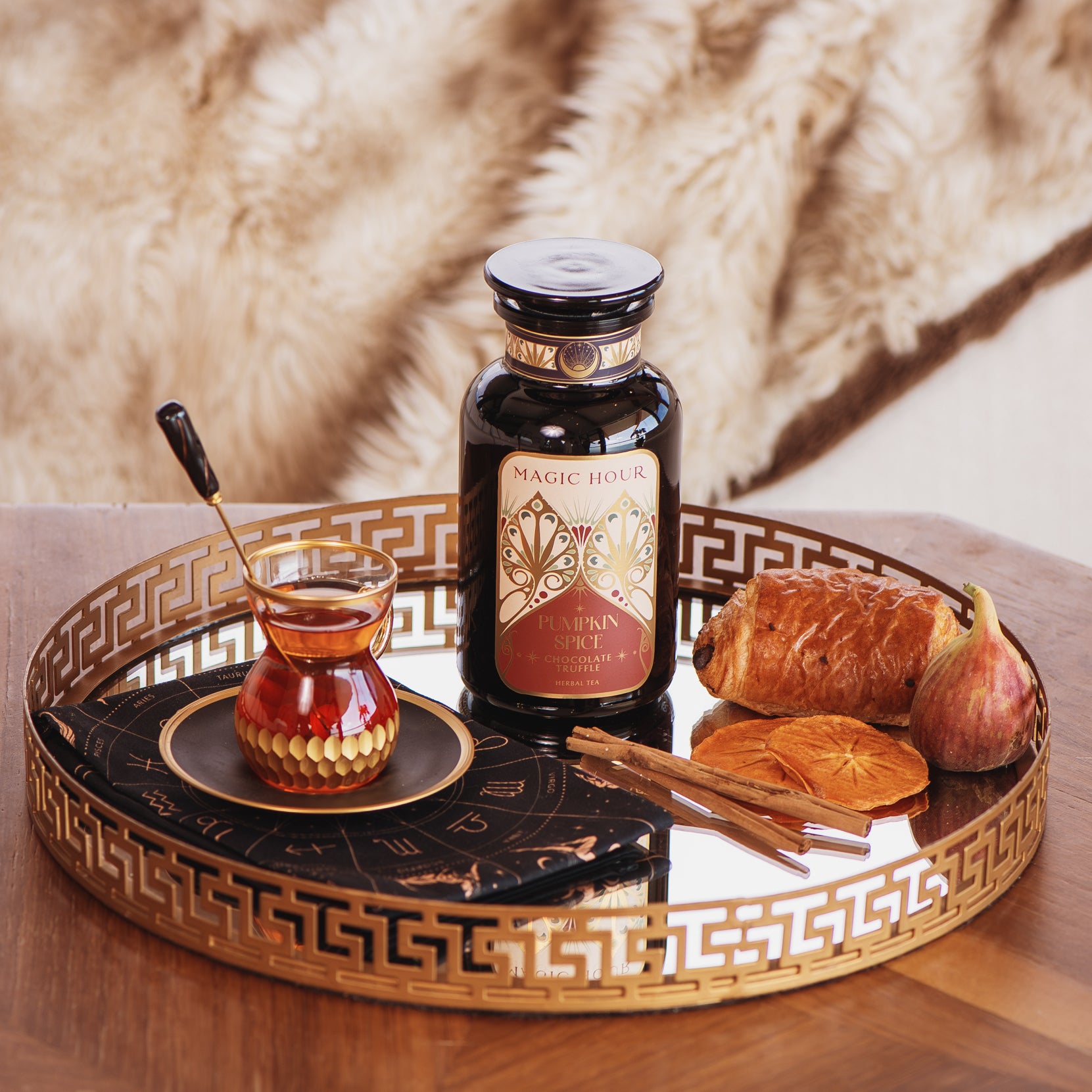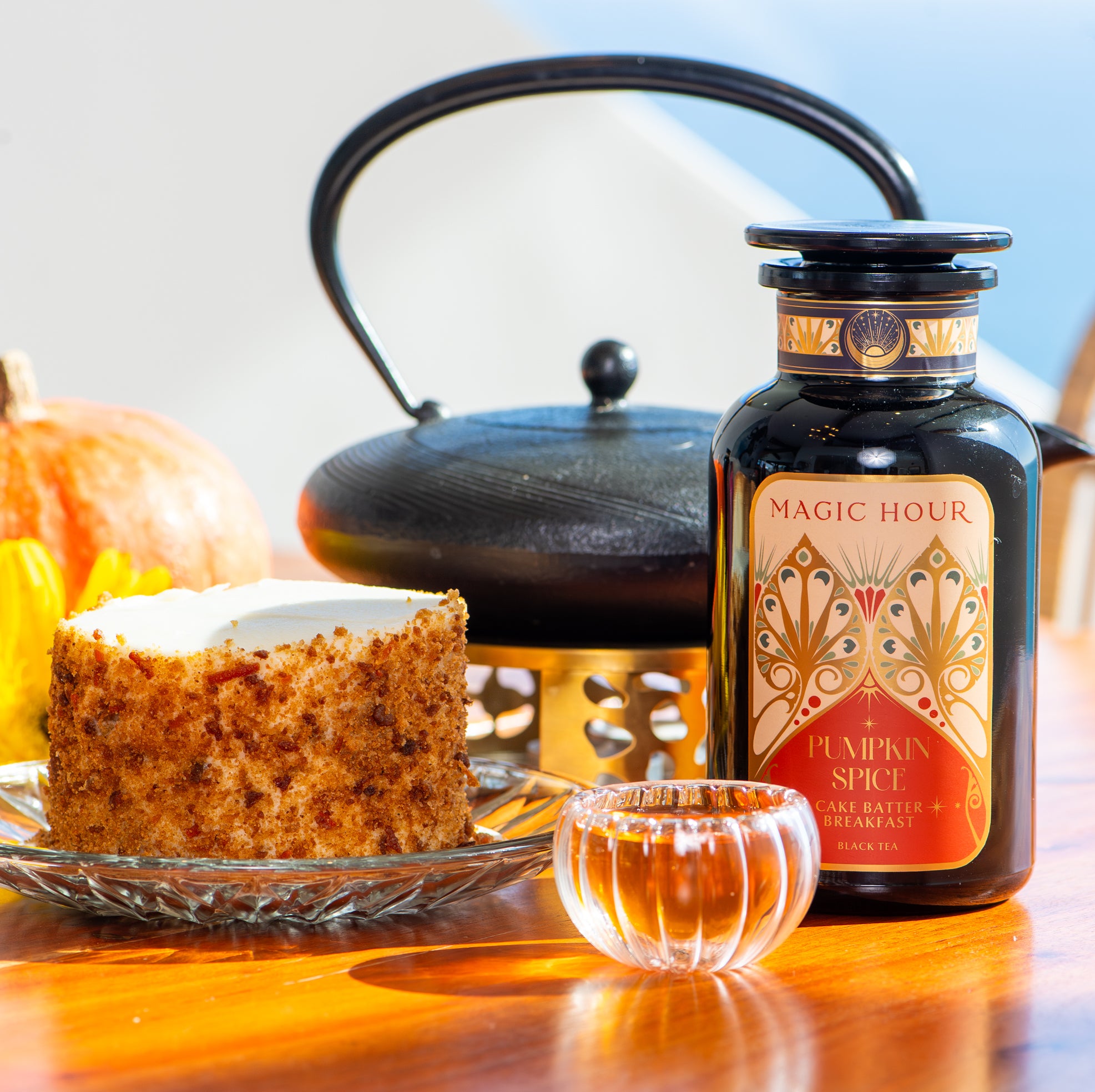 Pumpkin spice
Cake Batter Breakfast
Cake for breakfast! Sip this divine creamy Pumpkin Spice breakfast blend & feel like a kid again! Gut-healthy Puerh & warming spices make achieving your health and wellness goals a piece of cake!
Sip Cake for Breakfast
Pumpkin spice
Fireside Chai
Caffeine-Free
Zhena's classic Fireside Chai blend, a perennial favorite, undergoes a heartwarming transformation as it merges seamlessly with the harvest richness of pumpkin pie. This delightful concoction not only offers a sensory journey but also presents an antioxidant-rich elixir that brings joy to every sip.
Sip Fireside Chai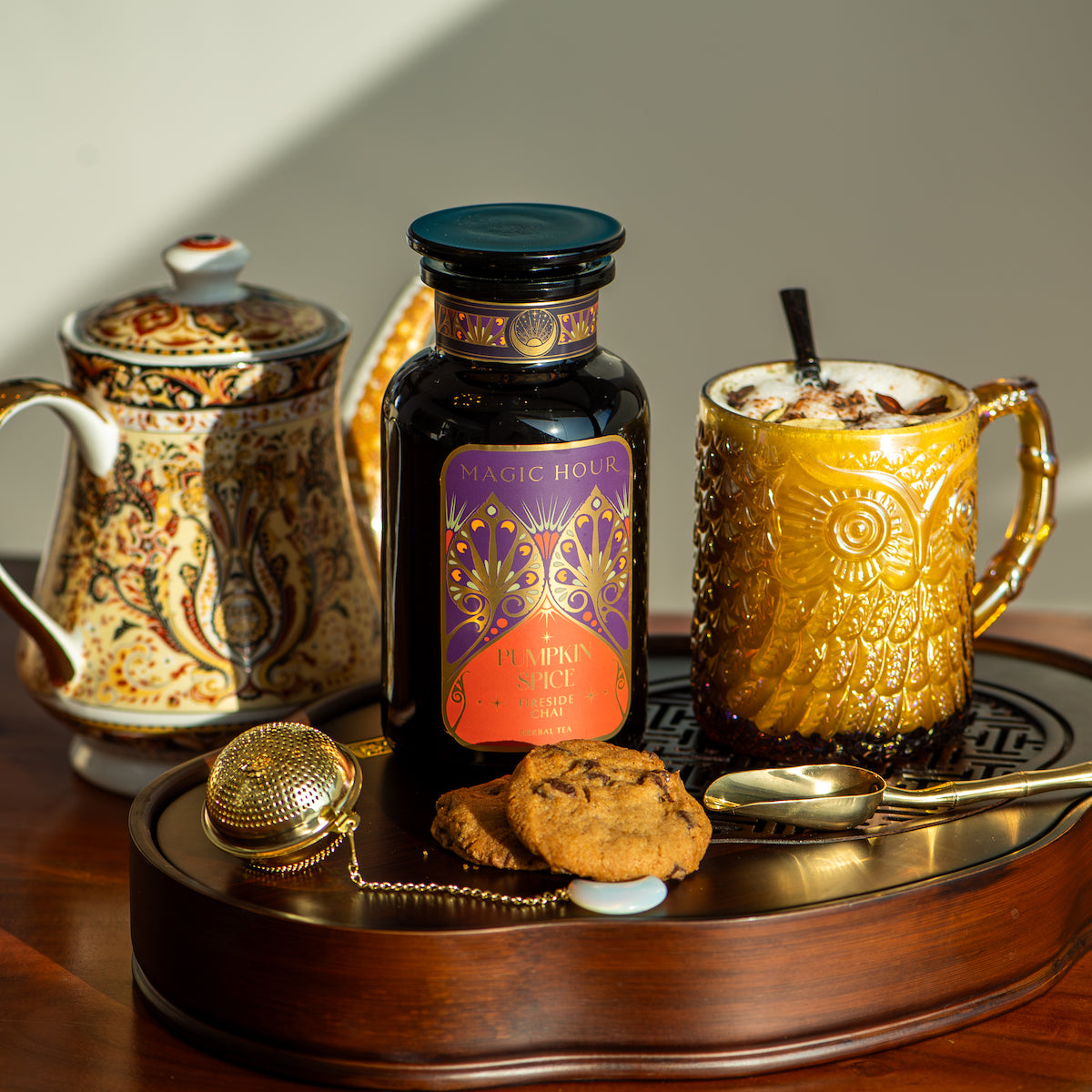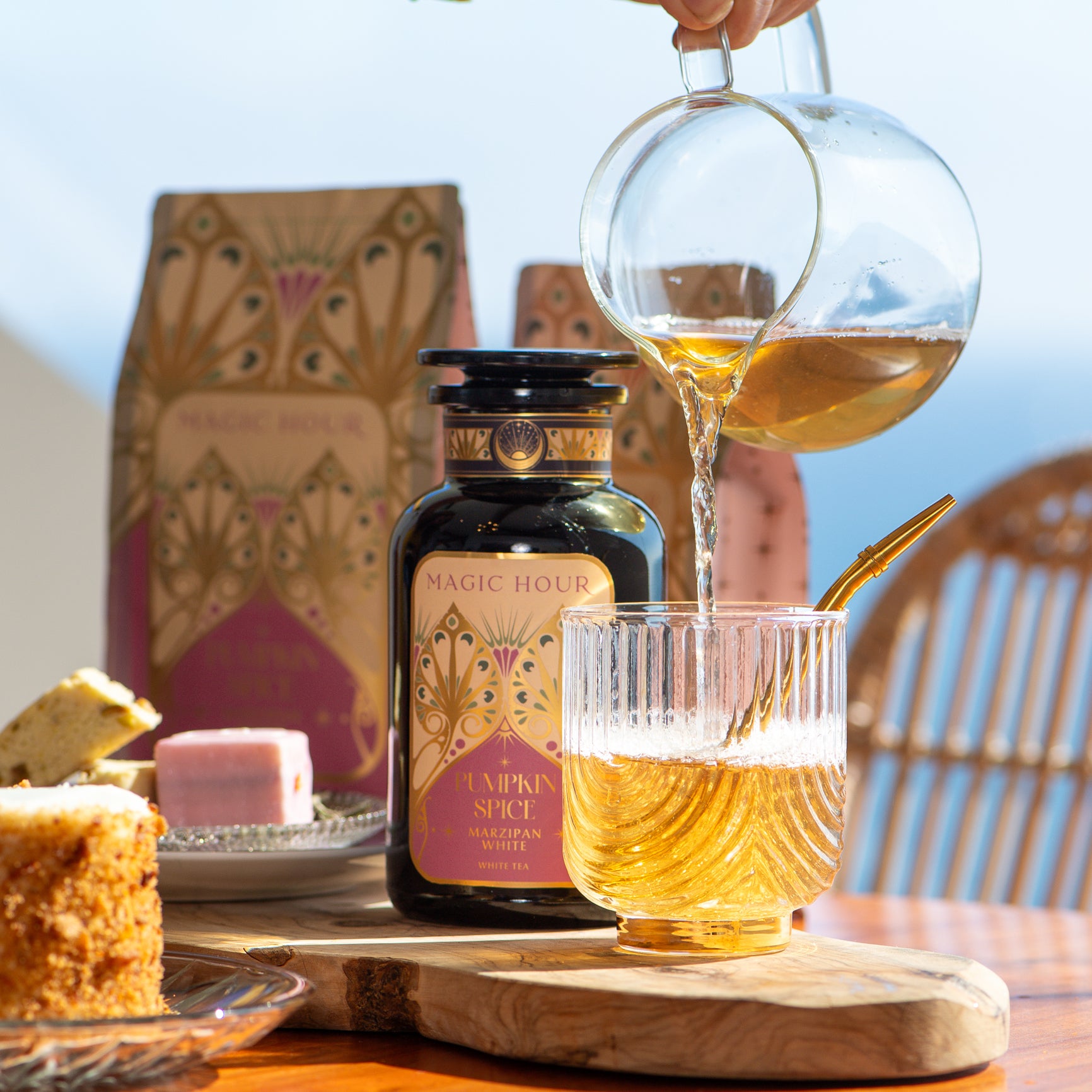 Pumpkin spice
Marzipan White
Indulge in a skin-beautifying and mind-calming creamy white tea blend, reminiscent of marzipan with a delightful pumpkin spice twist. Each velvety sip is enriched with antioxidants that lovingly care for your well-being, this blend goes beyond tea-drinking; it's a holistic experience that beckons you to the heart of your soul's hearth.
Sip Pumpkin Spice Marzipan
Pumpkin spice
Caramel Oolong
Mood-soothing, metabolism-boosting and sweet-tooth satisfying, this fall harvest blend of tea, pumpkin & caramel is blended with love for your enjoyment and well-being.
Sip Pumpkin Spice Caramel Oolong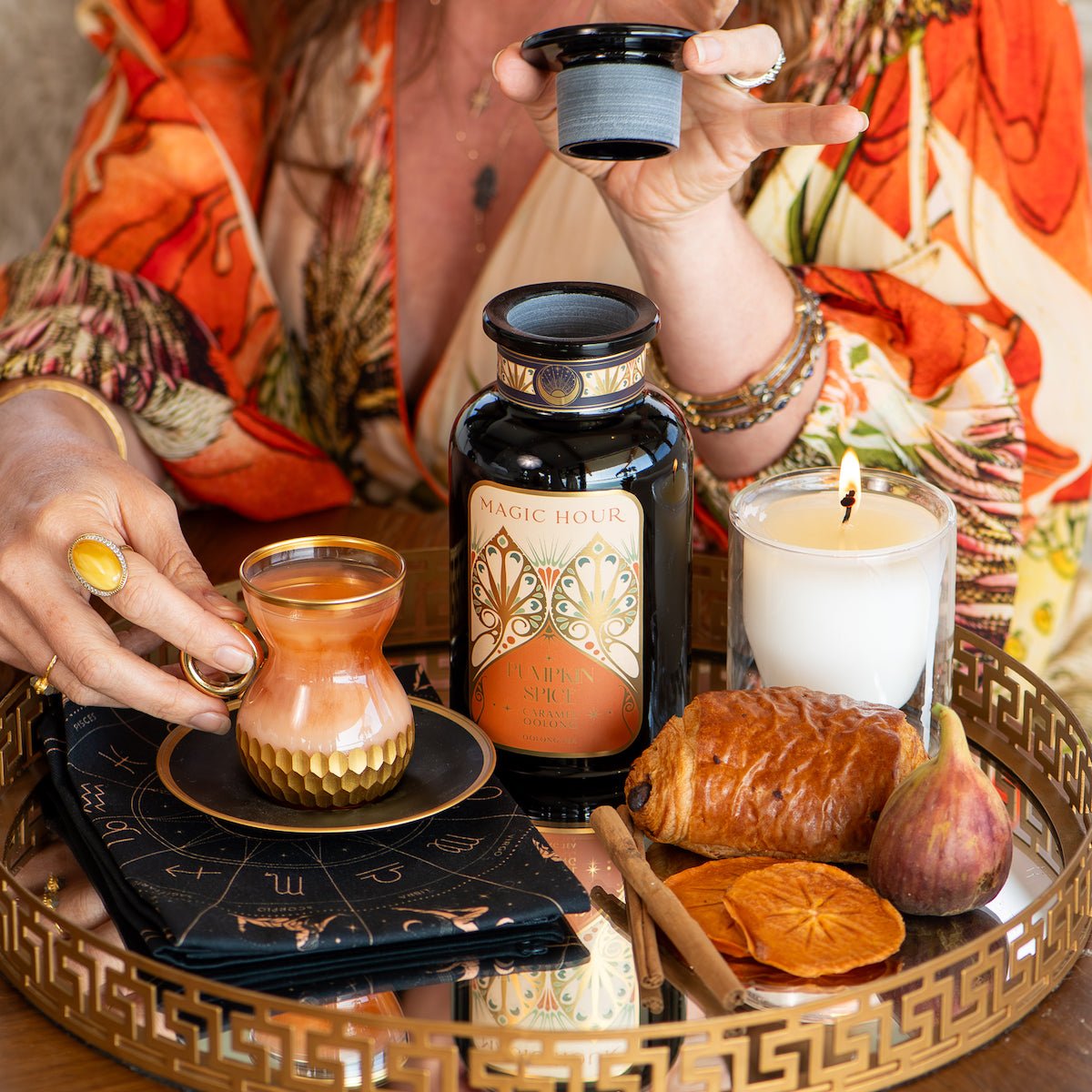 Pumpkin Spice Abundance Sampler Bundle
save $11 when you try them all!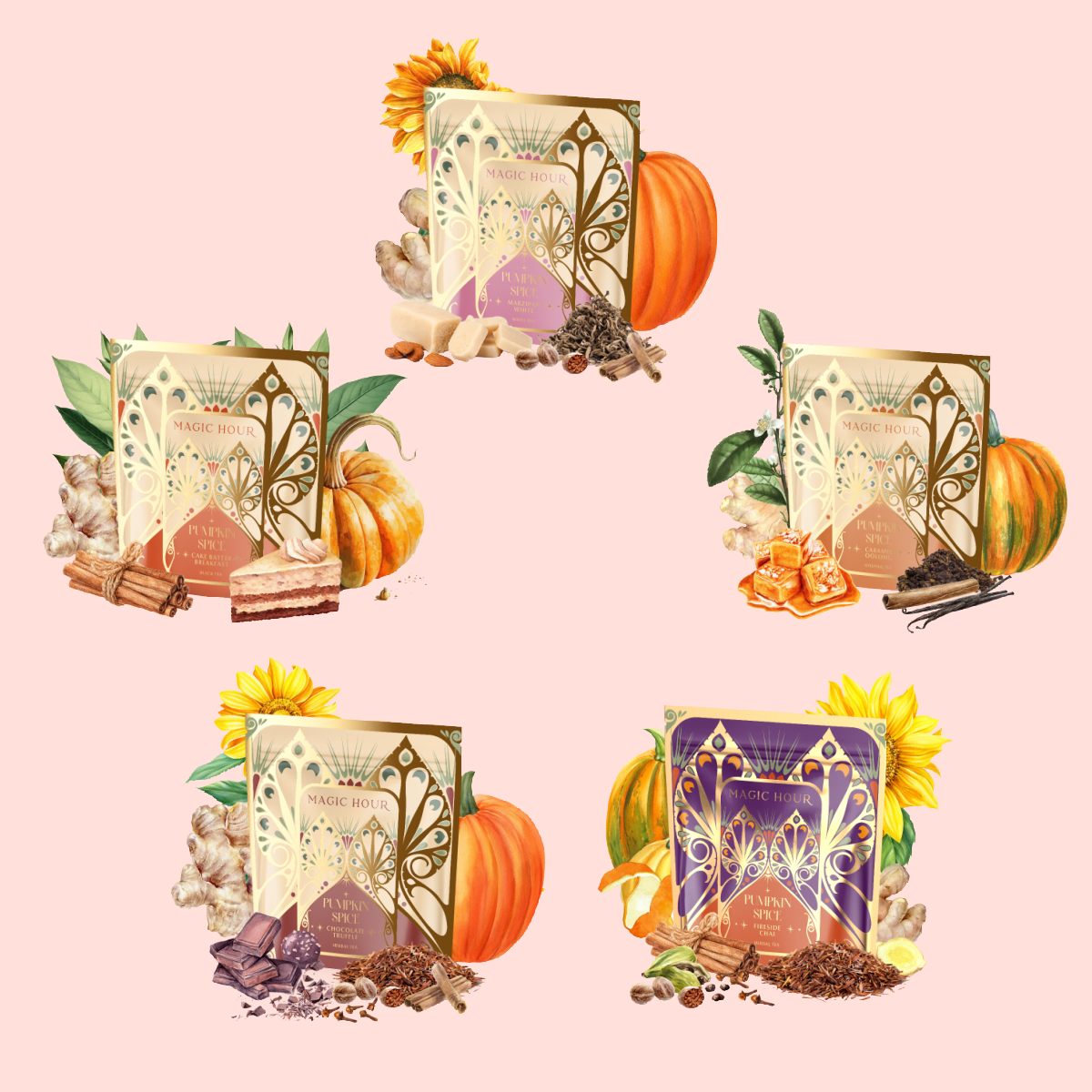 Embark on a journey of abundance with our Pumpkin Spice Sampler Bundle. Experience all 5 imaginative flavors – Marzipan White, Fireside Herbal Chai, Pumpkin Truffle Rooibos, Caramel Oolong, and Cake Batter Breakfast Tea. Save $11 while you savor the essence of fall evenings. Try each blend, find your favorites, and later, dive into full-sized delights. It's the taste of discovery, wrapped in autumn's warmth.